Instrumental Lessons
How should I choose an instrument?
If you are keen to take up an instrument but not sure which one then please speak to Mrs Parrans-Smith, Head of Music who can advise you.
Learning any kind of instrument has huge benefits, especially when applying to top universities and providing information for a UCAS application. You can gain extra UCAS points for grades 6 and above, with the points equating up to the value of an AS Level.
Do I need to own an instrument, or can I rent one from School?
You can rent on a monthly basis from most music shops.
https://leicestershiremusichub.org/ - all instruments
https://musicalinstrumenthire.com/about/ - all instruments
If a pupil brings their own instrument to school, it must be insured privately and the school will not be responsible for any loss or damage.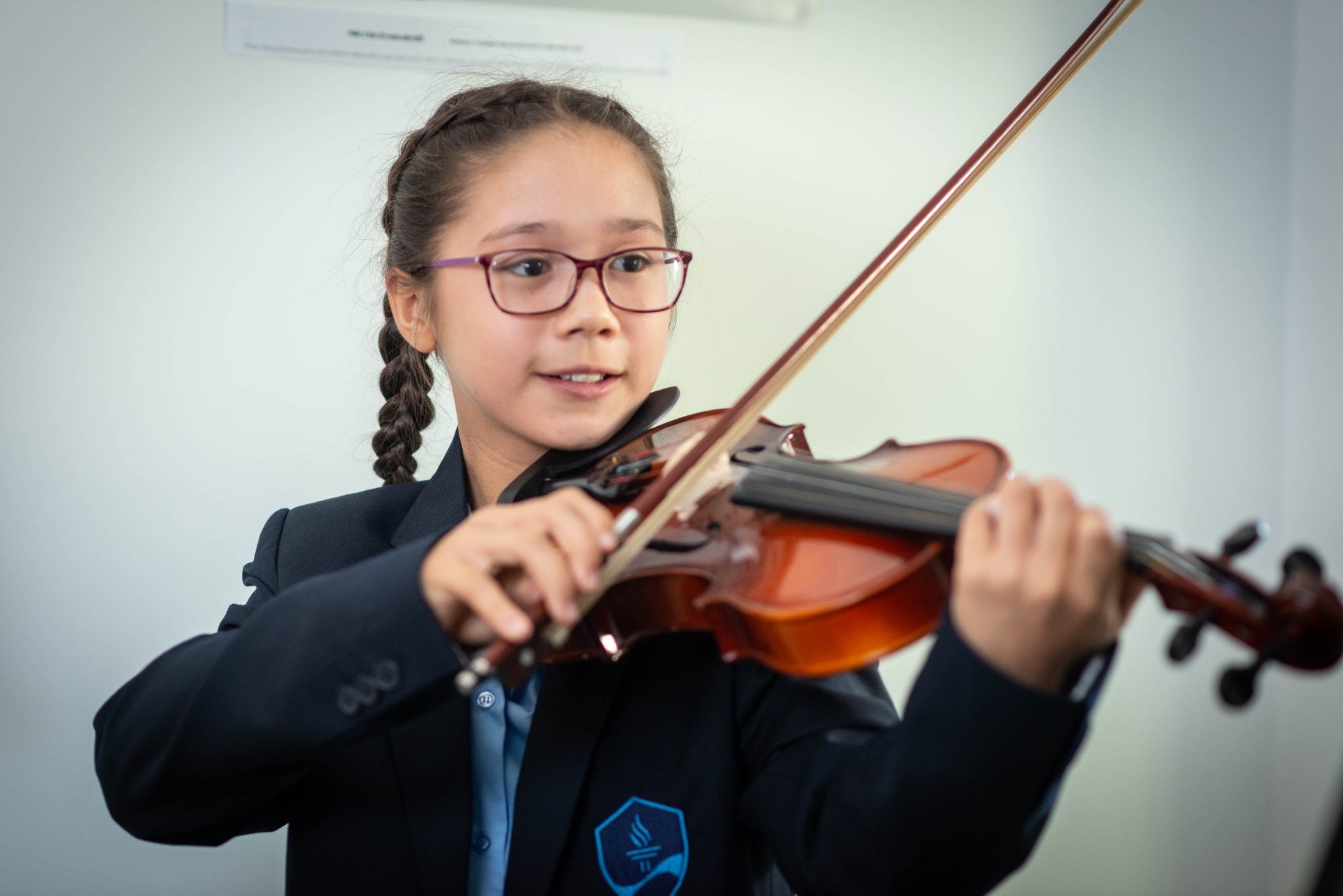 Lessons and Timetabling
We offer one-to-one tuition each week with one of our skilled and professional specialist teachers. Pupils receive a minimum of 30 lessons per year in total.
Pupils can find the times of their lessons in three ways:
Timetables are displayed on a notice board in the Music Department
The time will be communicated to the student each week in advance of their next lesson by the instrumental teacher
Should the pupil be confused about the timing of their lessons, there are a great many people who can help. They can see or contact their instrumental teacher, and any member of the music staff.
How does the lesson timetable work?
All pupils will have lessons during the School day. This is on a rotation basis, meaning the same subject lesson is not missed more than twice per term. Those in years 10-13 have their lessons outside of academic commitments. If you learn more than one instrument in School, one of your lessons will be placed during break/lunch or before School so as not to miss any more academic lessons than necessary.
Do I have to do music exams?
The school holds music exams (ABRSM/Trinity/Rock School) regularly throughout the year. There is no compulsion for any pupil to take music exams – many pupils prefer to progress without jumping these hurdles – but for many they can provide a useful and motivating goal.
Should the teacher and pupil feel that the time is right to sit an exam, the pupil will receive a letter to take home. Parents are required to pay for all music examinations and accompaniment fees.
There is no obligation, but often pupils find these a good way to focus their learning. It is entirely up to you, in consultation with your teacher.
Performance Opportunities
We aim to offer all of our pupils a range of so performance opportunities, from informal concerts, performing in assemblies to larger evening events.
How often should I practise?
As much as possible! It's always best to practise for short periods regularly, rather than one long session a week. To make sufficient progress and to pass instrumental music exams, it is advisable to practice a minimum of 4x each week for 15-20mins per session. If you are studying for a higher grade exam this would require far longer practice sessions. The Music Department is open throughout the school day, and pupils can book a practice room with Mrs Parrans-Smith if they wish to practice inside School hours if one is available.
Signing up for Music Lessons
Please complete the online Music Lesson Request form, or request and return a paper copy form from Mrs Parrans-Smith in the Music Department or the School Office. In the case of some instruments, there may well be a waiting list for lessons. Once the form has been received, the Music Department will be in touch with further details (e.g. teacher, lesson time, room etc.).
Paying for Lessons
Individual instrumental music teachers will invoice parents directly. Information on current teaching rates can be found on the Musician Union's website.
Absence
If a pupil misses a lesson, they will be contacted by the Head of Music in order to explain why. Should illegitimate absence be persistent, the Head of Music may write to parents to discuss this. In the case of legitimate absences (e.g. illness), instrumental teachers will endeavour to re-timetable lessons where possible, however, this may not always be possible.
Termination of Lessons
Lessons may be terminated by parents, by writing to or emailing their instrumental teacher. A term's notice must be given so that teachers' and room timetables can be adjusted accordingly. Please note that once lessons have started, they will continue each year until notice is given.
Communication
Should you have any questions or wish to raise any concerns, please do contact Mrs Parrans-Smith, the Head of Music at any time on t.parrans-smith@leicesterhigh.co.uk