Year 2
The five core Cornerstones Imaginative Learning Projects for Year 2 cover the following topics:
Muck, Mess and Mixtures
We're warning you; this is going to get messy!
We'll have a messy morning to investigate mixtures, from paint and toothpaste to jelly and shaving foam. We'll enjoy the story of George's Marvellous Medicine and write recipes, leaflets, lists and stories of our own. We'll use our science skills to explore everyday materials, investigate soap products and understand why mixtures freeze and melt.
We'll learn how to measure using scales, measuring jugs and cylinders accurately. We'll taste a wide variety of foods, learn about healthy eating and follow recipes to make some yummy treats including pizza and ice cream! Our artwork will also rely on our mixing skills. We'll use marbling inks to make unusual patterns, create food landscapes inspired by Carl Warner, paint with ice cubes, model clay into exciting shapes and use a variety of materials to make mixed media collages.
Street Detectives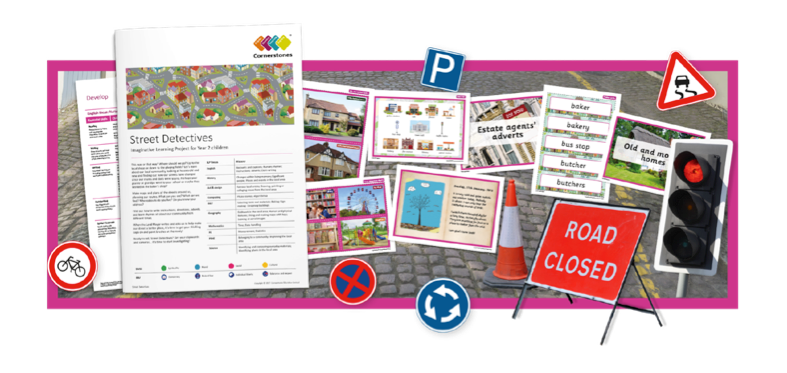 Grab a magnifying glass, put on your deerstalker and change your name to Sherlock because we're going to become street detectives!
We'll follow a route around our local streets and take pictures of the buildings, businesses and plants we can see. Talking to residents about the area will help us understand how the local community could be improved. We'll learn nursery rhymes, write poetry and create persuasive adverts. Looking at photographs will help us to spot any similarities and differences between the houses and shops of today and the past. We'll find out about the history of our school and talk to former pupils about their experiences. We'll also study and draw maps, create a model of a local building, draw portraits of the people we have met and look at the work of urban artists.
Towers, Tunnels and Turrets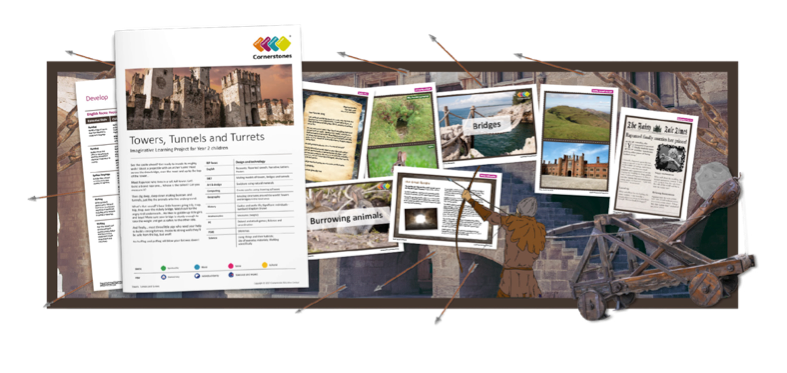 Climbing the battlements or tunnelling in the ground, there's a whole world of adventure and fun to be found!
We will visit a real castle to explore the towers, battlements and maybe a secret tunnel or two! We'll learn all about the different parts of a castle and describe how they have changed over time. Using a wide range of materials, we'll build models of castles and test the strength of our structures. We'll learn the stories of Rapunzel, The Three Little Pigs and The Three Billy Goats Gruff and create models inspired by them. Maps and photographs will help us learn about the tallest buildings and the longest tunnels in the world. We'll find out about the amazing Victorian engineer, Isambard Kingdom Brunel, and improve our PE skills by playing attacking and defending games.
Wriggle and Crawl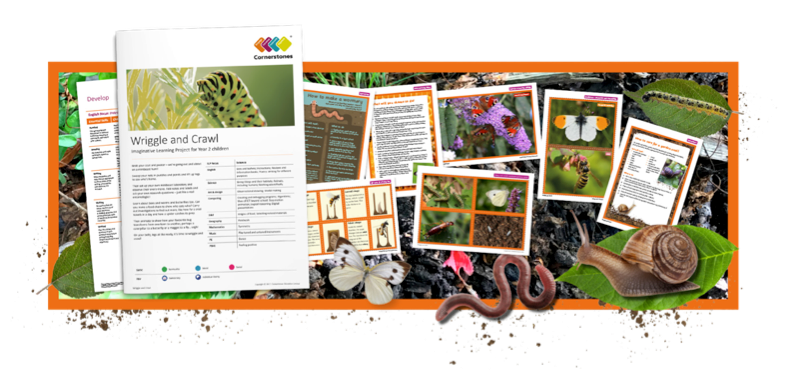 Put on your coat and wellies and let's head outside on a minibeast hunt.
We'll head to a wetland or woodland to identify minibeasts in their natural habitat. We'll write a guide book for other children to use on a minibeast hunt, draw sketch maps of our minibeast hunting area and create minibeast stories and poems. Heading out into the local area, we'll explore trees and bushes to see what lives there, investigate how far and how fast a snail can travel and create a minibeast habitat of our own. We'll draw delicate sketches of minibeasts, make models from a variety of materials and use microscopes to observe minibeasts up close. Our ICT skills will help us create a minibeast animation and we'll observe a beehive through live webcam footage.
Beachcombers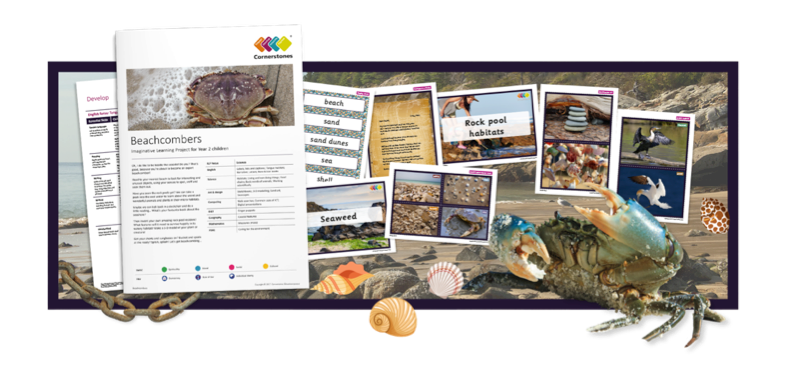 Pack up some sandwiches, pick up a fishing net and keep your eyes peeled because we're off to the coast to go beachcombing!
We'll visit a local beach to experience the sights, sounds and smells of the seashore and explore rock pools to find living and non-living things. Bringing shells, pebbles and seaweed back to the classroom will help us to learn about a wide range of coastal plants and creatures. We'll read a range of seaside stories and use the coast as a setting for our writing. Maps and film footage will help us to find out more about the coast and we'll create a wide variety of artwork. We'll use books and the Internet to search for information about the seashore and use our knowledge to write our own non-fiction books.