MFL Trip to Normandy 22.9.19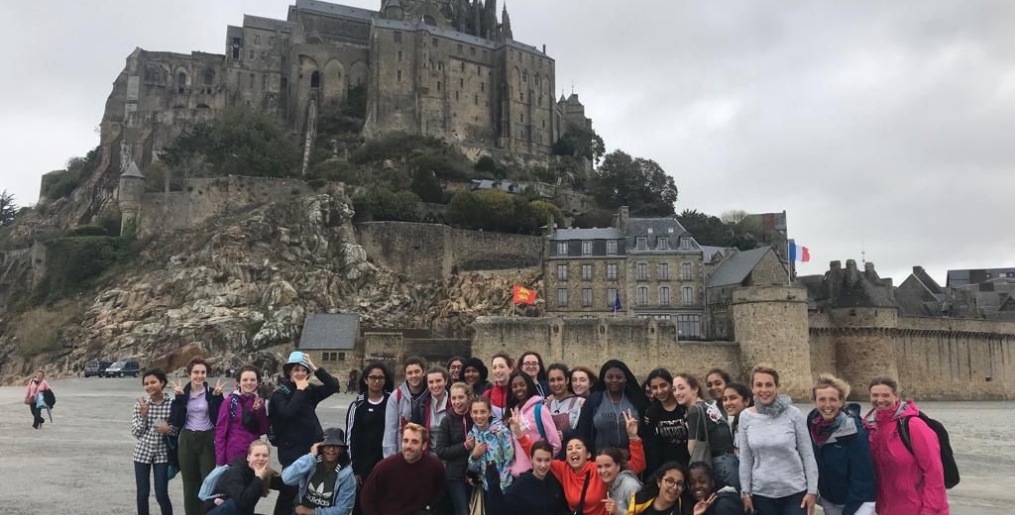 MFL staff led a trip to Normandy in late September.
Despite the wet weather throughout the week, our group of Year 9 Girls totally immersed themselves into the spirit of the Chateau. Mealtimes were an opportunity for trying new French foods (or not!) as well as asking for more bread from the kitchen in French. Dressing up "French style" whilst eating snails for the first time was one of the highlights of the week!
Daytime activities included getting extremely muddy on the assault course whilst singing French songs, making bread, climbing walls, stroking rabbits, feeding lamas, filling in journals, listening to French, speaking French and following instructions in, you've guessed it, French!
New friendships were formed and a true team spirit developed amongst us as the week went by. The talent show rounded off the week perfectly, as our girls sang, danced, performed card tricks and cheered in support for their friends. They did us proud!
The memorable journey home will undoubtedly be the future talking point of the trip. "Florence Nightingales" buzzed around the ferry helping anyone and everyone as seasickness took over! As soon as we saw the outline of the Isle of Wight, we cheered spontaneously and our spirits were lifted immediately. After a rather long journey back from Portsmouth to Leicester High School, Dangerous Dave (our coach driver) praised the girls and he thanked us all for being such a great team. Well done Year 9 girls. You were a credit to Leicester High School. Merci beaucoup!