Year 3
The five core Cornerstones Imaginative Learning Projects for Year 3 cover the following topics:
Scrumdiddlyumptious!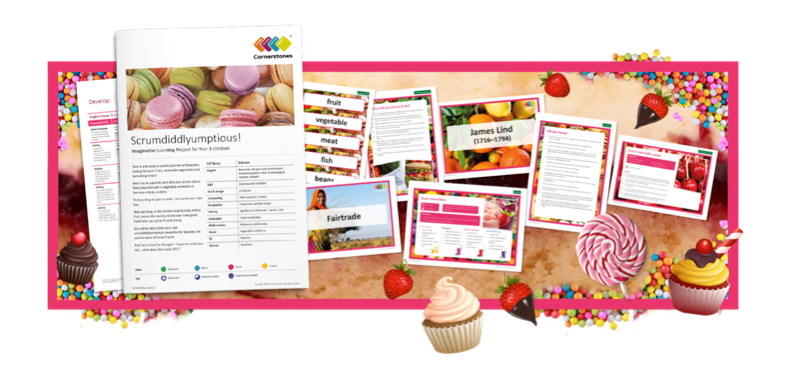 We're going to enjoy a yummy journey of discovery, sampling fantastic fruits and tantalising treats!
We'll visit a local supermarket to find out about the food sold there. We'll bring back samples of fruits and vegetables so we can investigate them using our senses. Will we like everything we taste? We'll try different types of bread, and maybe even bake our own. In art and design, we'll look closely at fruits and vegetables and sketch what we can see. We'll follow recipes and learn about foods from around the world. Our science work will focus on food groups and how food can be altered. Will we be able to create bouncy eggs, edible slime or exploding chocolate drops? Using fruits and vegetables, we'll make musical instruments and sculptures. We'll also learn about the fascinating discoveries made by the physicist James Lind.
Tremors

What happens when the Earth shakes? In this project, we'll find out about the dangerous world of natural disasters and their deadly effects.
We'll gather rock samples, find out about different types of rocks and sort them according to their properties. By carrying out research, we'll investigate the Earth's layers and the location of volcanoes, discovering what causes them to erupt. We'll write powerful poetry inspired by our work on volcanoes. Working as archaeologists, we'll locate Mount Vesuvius on a map and find out what it was like to live in Pompeii during the eruption. Using our model making skills, we'll build earthquake-proof structures and test them out. We'll also use different modelling materials to create a volcano – watch out, it's going to blow!
Gods and Mortals

Let's discover a fantastical world of mythical creatures and heroes!
We'll learn about Apollo and the other gods who reign from Mount Olympus and create a 3-D head of our favourite god or goddess. We'll explore the land of Greece, where the sun scorches the wings of Icarus and Helen of Troy inspires the launch of a thousand ships. In PE, we'll take part in athletics and practise synchronised battle movements just like the ancient Greeks. Using historical source materials, we'll research daily life in ancient Greece. We'll write diaries as Daedalus or Icarus and learn about epic battles. In D&T, we'll design wings, just like Daedalus, and make Trojan horses. We'll read Theseus and the Minotaur and create amazing labyrinths, using positional language to guide others around the maze. On maps of Greece, we'll plot the journeys made by ancient Greek characters.
Flow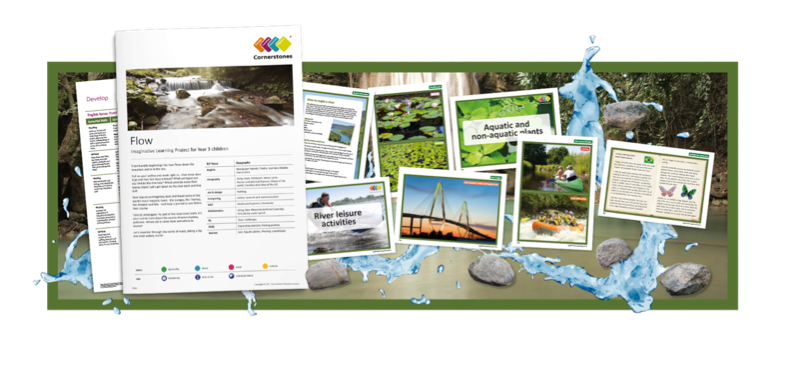 Get your wellies on and let's wade right in!
We'll visit a local river to find out what lives there, where the river is going and how fast it's travelling. At the river, we'll collect water and soil samples and catch river creatures. We'll examine the samples at school to investigate how clean the water is. Using our creativity, we'll write journals as river travellers and journey on an imaginary boat to rivers around the world. We'll make working models of water wheels, investigate the water cycle and use natural materials to make models that demonstrate river formation. Our descriptive river poetry will capture the movement of water, and we'll mix watercolours to create beautiful paintings in art. Our map reading and research skills will help us to find out about world famous rivers. In PE, we'll play team games to 'cross the river' in the hall without falling in!
Tribal Tales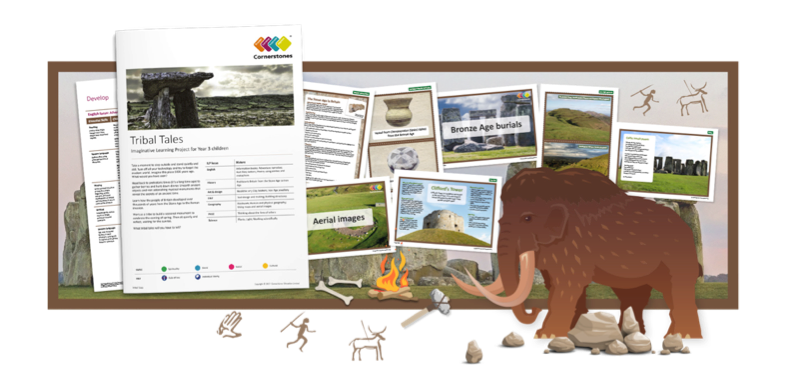 Let's travel back to prehistoric times!
We're going to find a prehistoric site in our local area by studying maps and researching online. Through our research, we'll learn about the Stone Age, the Bronze Age and the Iron Age. What were people's daily lives like and what epic battles did they fight? Using techniques such as cutting, scraping and mark making, we'll make Stone Age tools. We'll look closely at cave paintings and create our own. As we learn about the Bronze Age, we'll build monuments and investigate their shadows. In science, we'll plant grains and learn about plant life cycles. Copying the Beaker folk style, we'll make clay containers. Then, we'll travel to the Iron Age to learn about hill forts and the properties of iron. We'll also make Iron Age jewellery. During an exploratory dig, we'll find all sorts of objects and creatures. What will we uncover?