Success in the Mathematics Olympiad for Girls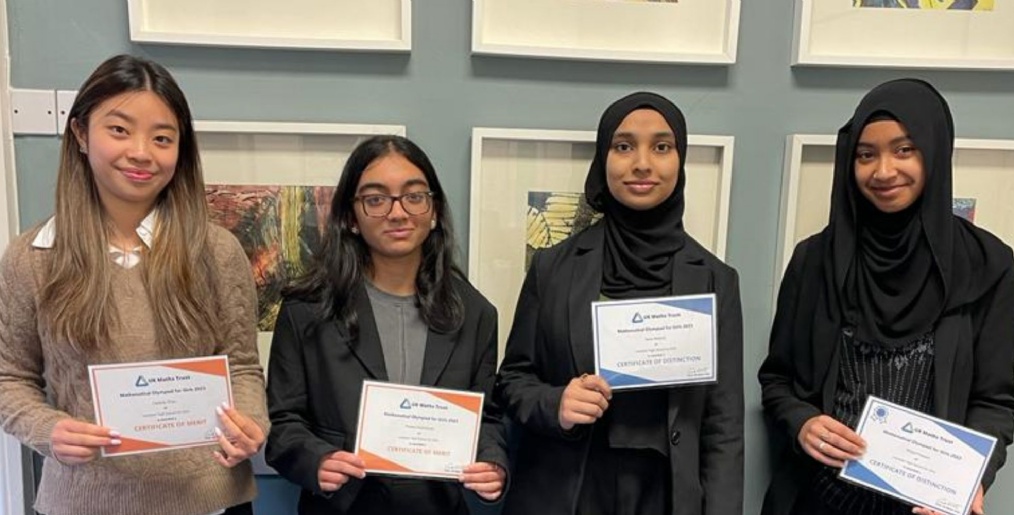 Congratulations to the following students for their remarkable achievements in the Mathematics Olympiad for Girls:
Cassidy - Merit
Aa'ishah - Merit
Pranavi - Merit
Sana - Distinction
Widad - Distinction and "Best in School"
Widad, Cassidy and Sana will next take on the British Mathematical Olympiad - round 1, whilst Pranavi will move to the Andrew Jobbings Senior kangaroo.
The British Mathematical Olympiad (BMO) is a challenging 3½-hour paper consisting of six problems, designed to push the boundaries of mathematical thinking. The selection for BMO is based on students' performance in the UK Senior Mathematical Challenge (UKSMC).
Mr. Matthew Pinnick, Head of Maths at Leicester High School for Girls, commented, "Our mathematicians have achieved some outstanding results. This is the premier individual maths competition there is, with the best mathematicians from all schools across the UK and internationally taking part. They should be very proud of their efforts."
Leicester High School for Girls has a strong tradition of encouraging students to participate in various mathematics competitions, allowing them to apply their knowledge to real-world problems and build confidence in their abilities. The consistently outstanding results achieved by our students reflect the high-quality academic program we offer as part of our curriculum.
For more information about Leicester High School for Girls and our commitment to academic excellence, please visit our website.