English Trip to 'The Curve' Theatre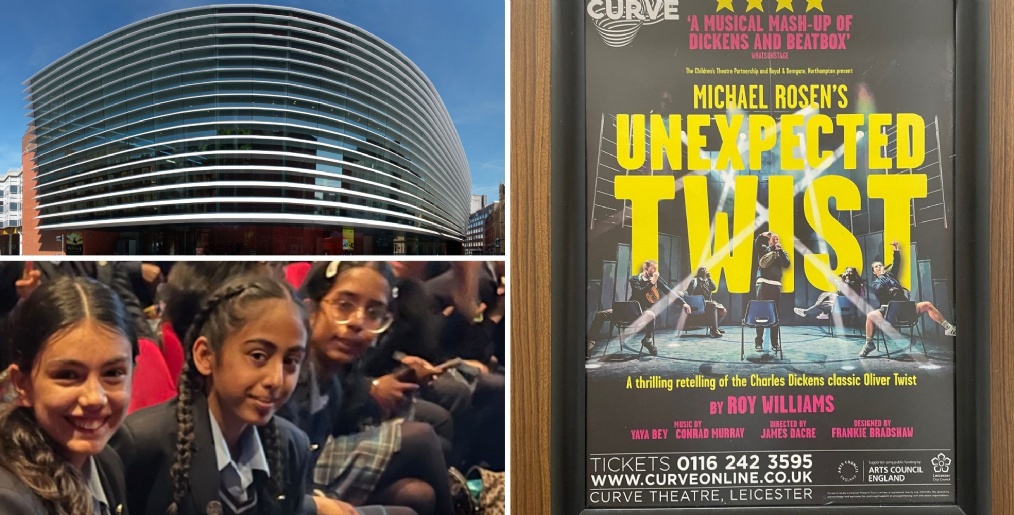 Years 5, 6 and 7 students studying English recently enjoyed a fantastic theatre trip to 'The Curve' in Leicester. They watched An Unexpected Twist, a bold re-telling of the Charles Dickens classic by one of the best-loved figures in the world of children's literature, Michael Rosen.
The production expertly blended two stories into one, resulting in a thrilling interpretation of Charles Dickens's beloved tale.
Dr. Nina Taylor, Teacher of English, at Leicester High School for Girls, remarked, "Our students had a wonderful time immersing themselves in live theatre, enjoying a magical blend of singing, beatboxing, and captivating storytelling. By experiencing the creativity and talent on display, the students gained a deeper understanding and appreciation for literature and storytelling. It was a truly memorable afternoon for all."
The excursion concluded on a high note as the students indulged in delicious ice creams, adding a delightful treat to a wonderful afternoon.
Leicester High School for Girls continues to prioritise providing students with enriching experiences that go beyond the classroom. Through events like this theatre trip, the school aims to nurture students' creativity, inspire their imaginations, and instil a lifelong passion for literature and the arts.
For more information about Leicester High School for Girls and its commitment to fostering a well-rounded education, please explore the website or arrange a visit.