Music at Leicester High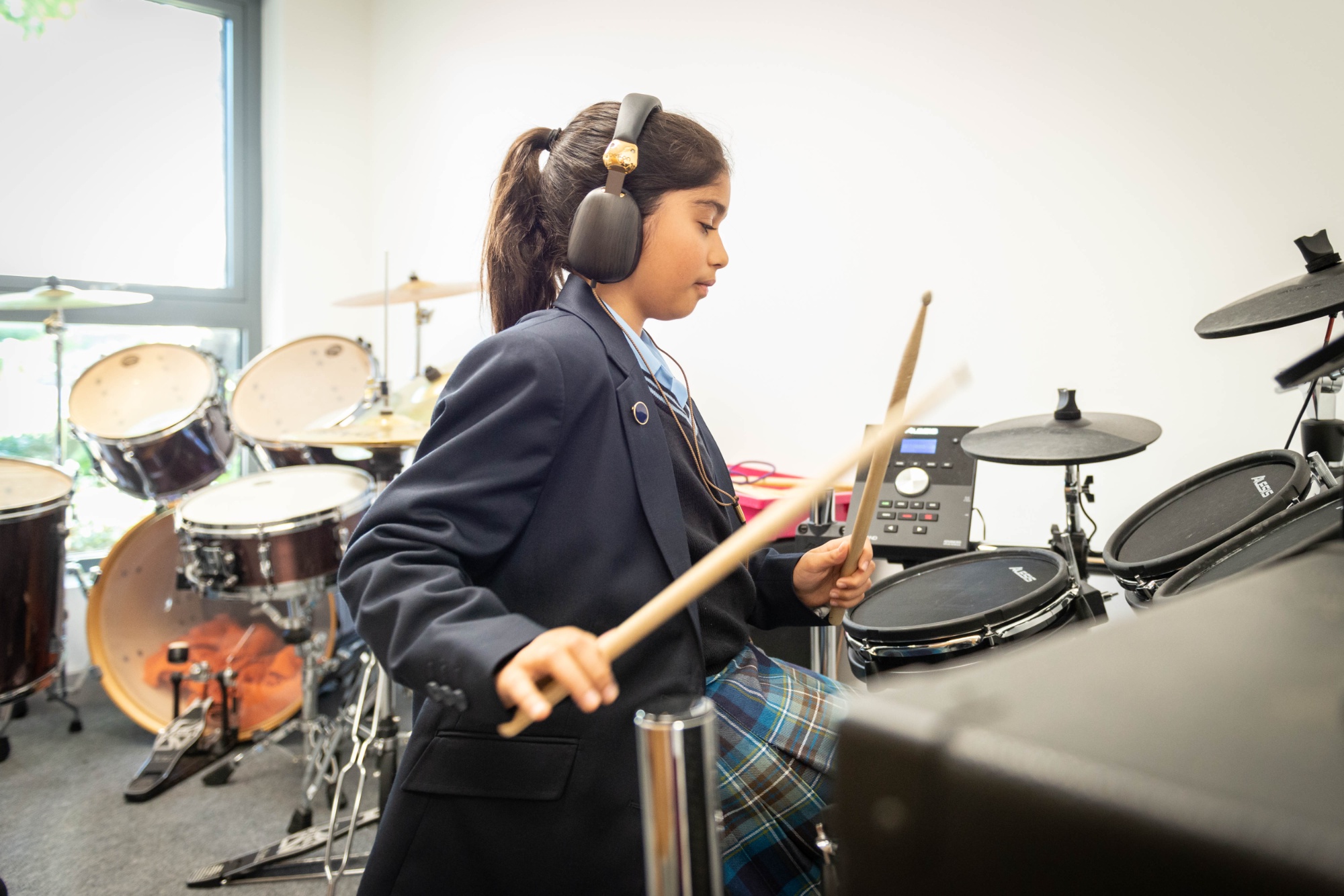 The Music Department is an inclusive space that welcomes all musicians regardless of ability and provides regular performance opportunities for all genres and levels.
At Leicester High School, we endeavour to instil in our girls a lifelong love and appreciation of music. Music provides a powerful form of expression which can enhance the life of every student. The unique combination of intellect, artistry, and feelings required for musical expression distinguishes it from other human activities and ranks music among the highest of cultural accomplishments.
Extra Curricular Music Ensembles
Taking part in a music group is an important part of learning a musical instrument and with only five notes, pupils are encouraged to join an ensemble. Most ensembles happen at lunchtime or after school and we strongly recommend that all girls taking music lessons join an ensemble.
Our aim is to provide musical opportunities for all girls regardless of their ability or level. As a department, we offer a wide range of extra-curricular opportunities for those students who want to develop their musical skills and abilities beyond the classroom curriculum. Current opportunities include: Junior Choir, Senior Choir, Chamber Choir, Junior Orchestra, Senior Orchestra, Cello Quartet, Rock Group and Baroque Trio.
Junior and Senior choirs enjoy singing a range of music from musical theatre, pop, classical and jazz genres and all of our groups perform regularly in School in both informal teatime concerts, more formal evening concerts and further afield at both a local and national level.
Instrumental Lessons
The Music Department is an active and vibrant part of school life at Leicester High School with many pupils taking instrumental lessons and engaged in various musical ensembles. We believe all students should be given the opportunity to learn an instrument and access a wide variety of musical activities on offer within the life of the school.
Individual instrumental lessons are available to all students on a variety of different instruments and are delivered by our excellent team of visiting music staff.
All girls are given the opportunity to learn an instrument with music providing many transferable skills including:
The ability to learn independently
Teamwork
Performance and presentation skills
Listening skills
Analytical skills
Music Scholarships
Music Scholarships are open to all pupils in Year 6 and above. Scholarships are awarded annually and will take the form of a 5% fee reduction.
At Leicester High School we are always keen to encourage musical talent and your daughter should apply for a Music Scholarship if they can demonstrate musical potential and an existing proven commitment to extra-curricular activities.